Steaming on the Koninglijn (King's Line)
The VSM runs on the route Apeldoorn – Dieren and calls at the villages of Beekbergen, Loenen and Eerbeek. The steam train also stops at Halte Immenbergweg, especially for camping guests at the many bungalow parks in the Veluwe forest. The route runs between the Veluwe and the IJsselvallei, with a varied forest and meadow landscape.
The route is part of the so-called 'King Willem III line', which officially runs from Dieren, via Apeldoorn to Zwolle. The section Apeldoorn – Zwolle has unfortunately been broken up. The line from Apeldoorn to Dieren was built in 1887 and the length is approximately 22 km. The line was officially opened on June 28, 1887. The local rail line was used extensively for both passenger and freight transport (mainly wood and paper for the local industry). Regular passenger traffic ended in 1947, while freight continued until 1984. The last freight train ran on June 1, 1984 and, ironically, was pulled by a VSM steam locomotive. In 1975 the VSM started the museum company on the Apeldoorn – Dieren line. The section Apeldoorn – Apeldoorn VAM (3 km) is still used today for the disposal of household waste trains. The line has been officially owned by the VSM since 2004.
– Text continues below the photo –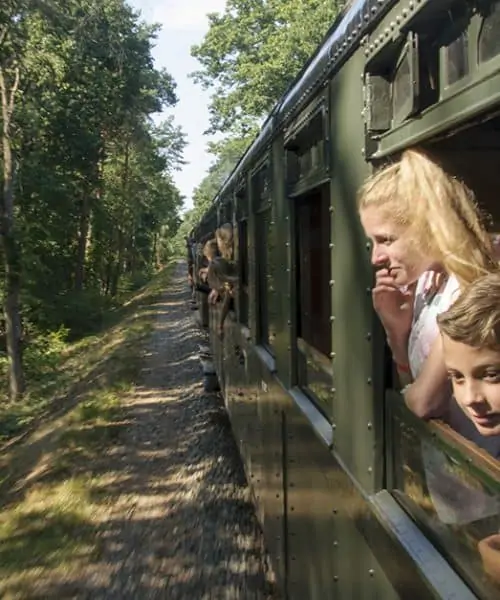 From Apeldoorn station the route bends southwards to go parallel to the Apeldoorn Canal in the direction of Apeldoorn South. At the VSM workshop Apeldoorn, the line bends from the canal and then leaves Apeldoorn at the VAM. The sloping countryside around Beekbergen and Lieren begins on the other side of the A1 motorway. The line bends to the left here and then reaches Beekbergen station.